WATCH: Whoopi Goldberg "Switches Mouths" with Jimmy Fallon on 'The Tonight Show'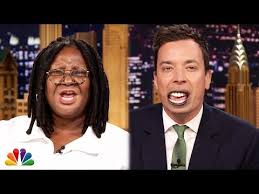 Whoopi Goldberg stopped by The Tonight Show Starring Jimmy Fallon, and of course, hilarity ensued. Whoopi and Fallon swapped mouths to have an in-depth conversation, and then topped it off with a classic duet to "I Knew You Were Waiting (For Me)."
Get ready to laugh by watching below!
Lip Flip with Whoopi Goldberg