WATCH: Taylor Swift Fans Boo Katy Perry Ad At Singer's London Concert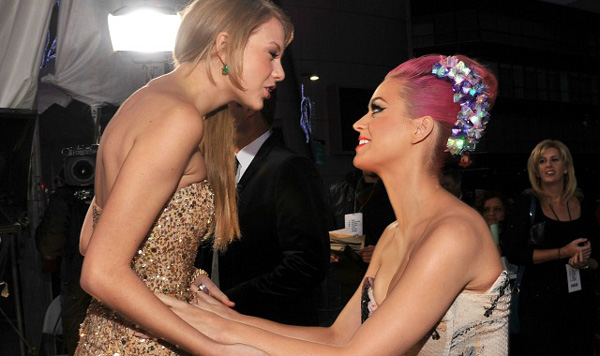 Katy Perry got booed by Taylor Swift fans before the 1989 singer took to the stage at Hyde Park in London on Saturday. As Gossip Cop reported earlier, Swift brought out a slew of her celebrity friends onstage during her show, including Kendall Jenner, Cara Delevinge, Karlie Kloss, Gigi Hadid, and Serena Williams. But prior to any of that, as fans waited in Hyde Park for the concert to start, there was a commercial on a monitor that featured both Swift, who was cheered, and Perry, who was booed. Watch the video below.
In a video for Capital FM 95.8, which was shown on a monitor before Swift's concert, a number of musicians were seen promoting the popular British radio station, including Ed Sheeran, One Direction, Sam Smith, and Swift and Perry. But when Perry's face first came onscreen, Swifties at the concert booed her. That wasn't all. A few seconds later, Perry reappeared again and was booed even more. Immediately following Perry's second time on the monitor, Swift was seen in the ad and wildly cheered.
As Gossip Cop has reported in the past, Swift's hit "Bad Blood" is reportedly about Perry. While Swift has never named Perry, she did say the song was about another female singer with whom she's "straight-up enemies."
Check out the video below of Katy Perry getting booed by Taylor Swift's fans before her performance in Hyde Park in London, and tell us what you think.
Taylor Swift fans boo Katy Perry