WATCH: Jimmy Fallon's Epic 'Saved By The Bell' Reunion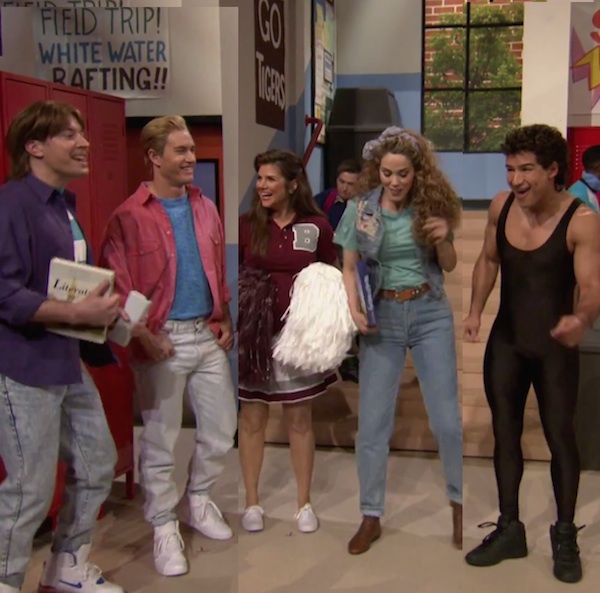 The cast of "Saved By The Bell" reunited for an epic sketch on Wednesday's "The Tonight Show Starring Jimmy Fallon."
Fallon, broadcasting from Los Angeles this week, kicked off the bit by saying he went to high school in L.A., and remembered it like it was yesterday. It was then revealed that the talk show had recreated the Bayside High set for an incredible "flashback." Mark-Paul Gosselaar, reprising his role as Zack Morris, came out and introduced Fallon as his "new friend." They had an amusing exchange using the lyrics of the show's classic theme song, and were joined by Mario Lopez, who, as A.C. Slater, naturally called Zack "preppy."
The trio discussed the big Valentine's Day dance, and Slater revealed he was going with Jessie, leading Elizabeth Berkley to make her entrance. He wooed her by ripping off his clothes to reveal he was wearing a black, spandex, leotard, and began dancing ballet in a nod to the series' "Swan Lake" episode. Zack then cracked that Slater belong on "Dancing with the Dweebs," a reference to Lopez's real-life stint on "Dancing with the Stars," on which Berkley also competed.
After Zack and Jimmy used their giant cell phones, Jimmy confessed he was "moving to New York to be a comedian." "I love it here," he told his pals, "but I want to be on 'Saturday Night Live.' Host my own talk show. And, who knows, maybe one day date Nicole Kidman." The Kidman part got huge laughs from the audience, as Gossip Cop just reported last month about Fallon and the actress' failed date from a number of years ago. The Bayside crew was hysterical at the notion, though, and Zack quipped, "It's like Jessie becoming a stripper," a hilarious reference to Berkley in Showgirls. Jessie then emotionally reacted to Jimmy's moving news by having an "I'm So Excited" meltdown, reenacting one of the most famous moments in the series' history.
Tiffani Thiessen then arrived as Kelly in her cheerleading uniform… and revealed she's pregnant! (Thiessen is actually expecting her second child in real life.) Zack called "time out" to process the news, and as everyone else remained frozen, he told the camera, "On the downside, I'll probably be grounded for life. But on the plus side, I got Kelly Kapowski pregnant!" He then gave Kelly his full support, and said, "We should run off to Las Vegas to get married, and then we should move to a new zip code in Beverly Hills!" Those lines, of course, were nods to the "Saved by the Bell: Wedding in Las Vegas" television movie, and Thiessen joining "Beverly Hills, 90210? around the same time.
The group then broke out into "Friends Forever," a song featured in yet another beloved "SBTB" episode. There was even a cameo from Dennis Haskins as Mr. Belding. Noticeably absent, however, were Lark Voorhies (Lisa Turtle) and Dustin Diamond (Samuel "Screech" Powers), who didn't participate in Fallon's past "Saved by the Bell" sketches, either.
Watch Jimmy Fallon's epic "Saved By The Bell" reunion below!
Jimmy Fallon Went to Bayside High with "Saved By The Bell" Cast