WATCH: Honey Boo Boo performs cheer with Jimmy Fallon on 'Tonight Show'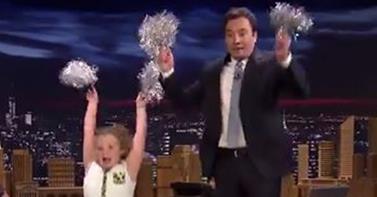 Honey Boo Boo and her "Mama" June Shannon appeared on Wednesday's "Tonight Show," where the reality star performed a cheer with Jimmy Fallon.
VIDEO BELOW
The late night host gave her silver pom poms for their improvised routine.
Despite Fallon's newfound love for cheerleading, Honey Boo Boo wasn't ready to exchange friendship bracelets with him just yet.
Check out the video below!
Honey Boo Boo Shows Jimmy Her Cheerleading Moves