WATCH: Friends Reunion on Jimmy Kimmel Live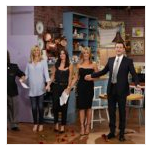 "Jimmy Kimmel Live" hosted an amazing "Friends" reunion on Wednesday.
The late-night host told guest Jennifer Aniston that he was a big fan of the beloved show, and even wrote fan fiction back in the day inserting himself into the storylines — as Ross.
It was then a dream come true for Kimmel and "friends" fans alike when Courteney Cox and Lisa Kudrow showed up to help bring one of his scenes to life.
Kimmel even recreated the "Friends" set! Aniston, however, drew the line with wearing a "Rachel" wig. A good part of the script was the women discussing "how good" Ross is at "making love."
With all rumors of an actual "Friends" reunion proven false over the years, it was a special — and really funny — surprise treat. And it came just hours after it was revealed there will be a real-life Central Perk pop-up coffee shop in New York City this fall.
What a day! Earlier on "Jimmy Kimmel Live," Aniston confessed to drinking the talk show host's wife's breast milk. Yes, you read that correctly.
Check out the videos below, and tell us what you think!
Jennifer Aniston, Courteney Cox, Lisa Kudrow and Jimmy Kimmel in "Friends"