WATCH: Dave Franco And Conan O'Brien Join Tinder!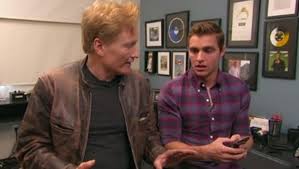 Dave Franco and Conan O'Brien joined Tinder on Thursday's "Conan."
The duo joined the dating app as "Jengis Roundstone" and "Chip Whitley" respectively, but things got super awkward when they both matched with Gloria, the same 74-year-old woman.
Franco and O'Brien then hilariously took to their Tinder van, "Brown Lightning," to meet up with Franco's match "like a murderer on the prowl."
Check out the video below!