WATCH: Adrienne Bailon Removes 'Rob Kardashian' Tattoo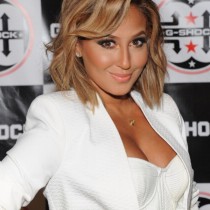 Adrienne Bailon is removing a tattoo of ex-boyfriend Rob Kardashian's name from her butt.
It's been six years since the couple dated, and Bailon is "excited" and "anxious" to have the ink taken off her body.
"I think living the last six years with somebody's name on your body is a little weird and that's more painful, like, you know, to have to explain it to my kids," she explains.
Bailon has had two unsuccessful removals, but when she recently started the process with a cutting-edge PicoSure Laser, the star let "Extra" film it.
How did things go?
Check out the video below!
Adrienne Bailon Begins Removing Her Rob Kardashian Tattoo