VIRAL VIDEO: Southwest Airlines flight attendant's hilarious safety announcement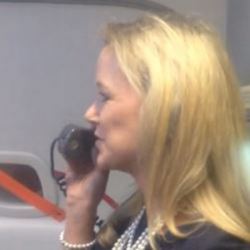 For you frequent flyers out there, you probably know the safety announcements that flight attendants make by heart by now ... but you've probably NEVER heard them like this before!
A Southwest Airlines flight attendant turned that boring (but necessary) safety speech, into a hilarious version of it .. and she didn't miss a beat either! Hey - at least she got everyone's attention. And everyone on board loved it. After she was finished, they all clapped and cheered in her honor.
Flight attendants everywhere - TAKE NOTE! Check out her amazing speech below:
Hilarious SWA Flight attendant- In Mid Life Crisis MUST meet Ellen and Jimmy Fallon!!