Public high school suspends girl for five days for FAVORITING TWEETS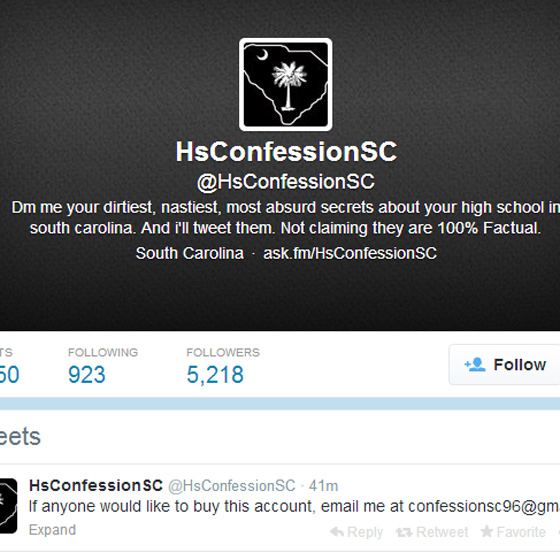 The principal at a small-town South Carolina high school has suspended a student for five days because she clicked Twitter's "favorite" button and thereby favorited a tweet at a controversial, grossly immature Twitter page called HsConfessionSC.
The suspension occurred at Hartsville High School in Hartsville, S.C., local CBS affiliate WBTW reports.
The suspended student is senior Demi Grant. She apparently pushed the favorite button for some tweets. It's not clear if she was in school or anywhere near school grounds when this happened.
"I favorited all of them because I just thought they were funny," Grant told WBTW. "I didn't favorite because, you know, they were true. I just favorited them because I thought they were funny."
Among the tweets Grant favorited was a specific tweet that referred to a Hartsville High student killed in a car crash in 2012. It seems to have been this action that angered school officials.
Ironically, Grant had gotten in trouble previously for expressing online frustration because someone started a fake social media account using the deceased girl's name.
School officials disciplined about 30 students for visiting the HsConfessionSC Twitter account, calling their actions and Grant's actions "cyber-bullying."
"Whenever we were called in there the principal looked at all of us and he said that we made him sick," Grant said.