PHOTO: Jessica Simpson wows at first red carpet appearance in 5 months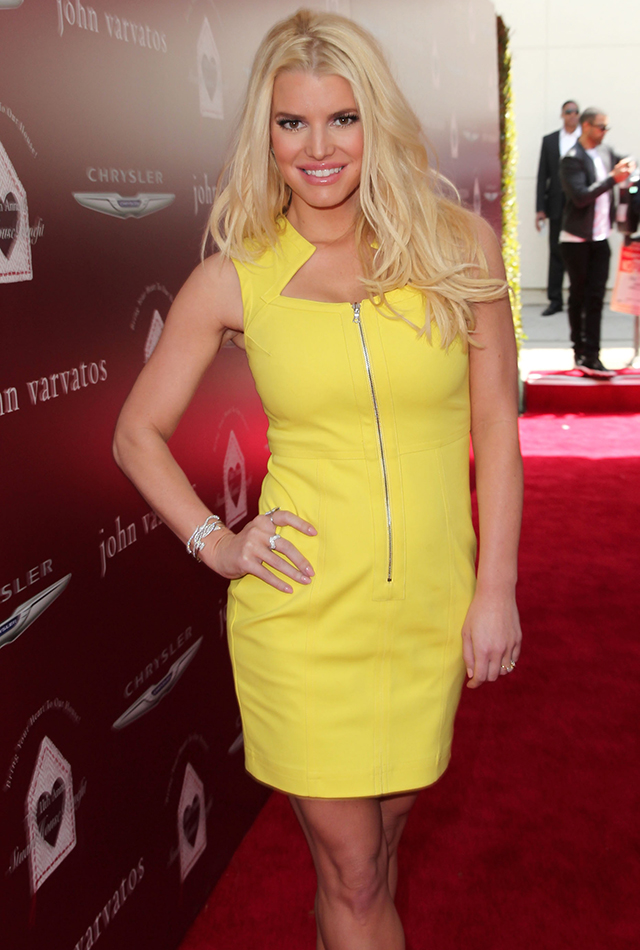 (Yahoo!) - Looking good, Jessica Simpson!
Simpson, 33, stunned on Sunday while attending the John Varvatos Stuart House Benefit in Los Angeles. The Weight Watchers spokeswoman showed off her toned arms and fit frame in a curve-hugging, bright yellow dress. This was the fashion mogul's first red carpet appearance since November.
"So HAPPY to support @johnvarvatos for the #StuartHouse," she captioned the above photo on Instagram.
Inside the soiree, the mother of two mingled with guests like Amy Adams, Rachel Zoe, Gene Simmons, Willie Nelson. However, Simpson stayed close to Johnson and two friends.
"POWER COUPLES!!!!" she shared along with the below photo.
Simpson has reportedly lost around 60 pounds since giving birth to Ace Knute in June. The singer has proudly flaunted her toned figure in various Instagram shots, and even slipped back into her Daisy Dukes last month.
"I was so insecure — I couldn't even believe what I weighed," she explained on "Good Morning America" in February. "My first pregnancy I ate a lot more, but my second pregnancy I ate enough, like I ate what I wanted to eat but I stayed active… I think because I had gained so much weight with my first that I had to stay active throughout my second because I didn't know what to do with myself if I didn't."
To keep the weight off, Simpson said she works out with a personal trainer and follows a "clean" diet.
Also keeping her busy? Wedding planning!
Sources confirm to Yahoo that she and fiancé Eric Johnson decided to move their nuptials to Southern California. Reportedly, the couple — who has been engaged since November 2010 — was initially eying Capri, Italy, as the locale for their big day.
One thing's for sure… Simpson is going to make a beautiful bride.
Photo Credit Getty Images