Kendra Wilkinson Says Marriage to Hank Baskett Is "Down the Drain," Admits She Flushed Her Wedding Ring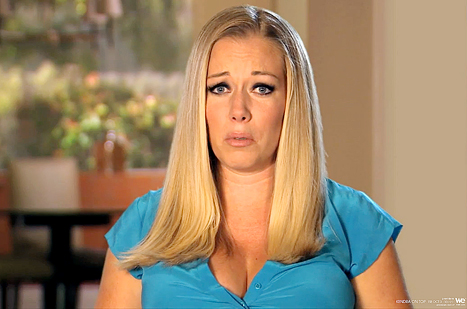 #Dunzo. Kendra Wilkinson admits in a new Kendra on Top teaser that her marriage to Hank Baskett is "down the drain" after learning he cheated on her while she was eight months pregnant. The blonde reality star, 29, holds nothing back as she recounts to the camera what it was like to learn her husband of five years, 31, had an sexual relations with transsexual model Ava Sabrina London.
"Every word that came from the tabloids was like boom, boom, boom!" Wilkinson said through tears. "When did he do this? While you're eight months pregnant," she tells the camera. "I'm like, 'Oh my god!" The mom to Hank IV and newborn Alijah goes on to say she felt like she was "getting shot."
The former Playmate also confirms in the clip that, as previously reported by Us Weekly, she flushed her wedding ring down the toilet after learning of Baskett's infidelity. "Our marriage is down the drain," she's seen telling a friend in the clip. "I flushed my wedding rings down the toilet."
Hugh Hefner's ex "started snooping" after the NFL pro didn't rush to clear his name in the press, Us previously reported, leading her to find unexplained charges on his credit card. "She flipped out," a source told Us at the time.
"Kendra has seen a divorce lawyer," another source close to the WE TV star told Us. "She's definitely serious about filing, but is also reviewing her options before she makes a final decision."