Radio WHAT - Featured Artist - Will to Power - I am happy to announce that legendary Miami DJ, Bob Rosenberg of Will To Power, has given me access to his music catalog. I have taken the liberty of putting the songs on the playlist. You may search the playlist and request these songs anytime. The "hits" include "Dreamin," "Baby I Love Your Way/Freebird (Free Baby)," and "Say It's Gonna Rain." But there is more, so much more to hear. Search the playlist under "W" and bang those blue request buttons on Radio WHAT at http://www.radioWHAT.com/.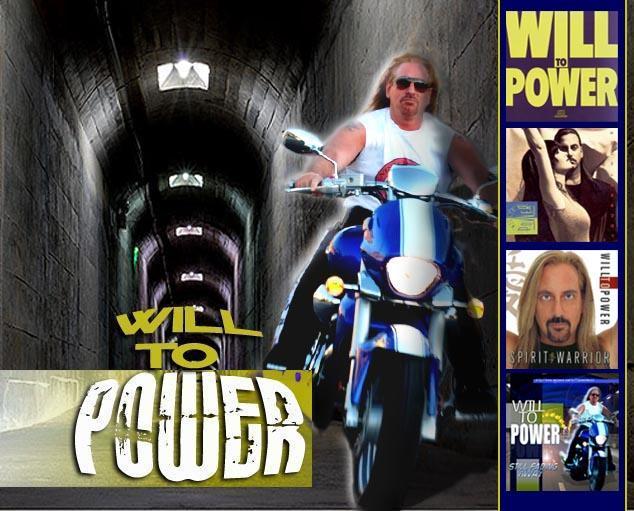 As the first On-Air Mixing DJ in South Florida (99 Jamz, Hot 105 & Power 96) from 1984 - 1987, DJ Bob Rosenberg decided he would put the energy he put into his Mega Mixes ("Hot Mixes" from Hot 105) into creating new music. Hot 105 charted Bob's 5 minute Hot Mixes as regular songs. Most went to Number 1 on Hot 105's official chart based on call out research and requests.
Bob's first work at writing, production, programming and vocals was called Dreamin'. A few acetates were pressed but no records were made. The song went big in South Florida at Backstreet (Bob Miro, DJ) and at 4-D and Palladium in NY (Scott Blackwell DJ). Now a name was needed for the "band".
Bob's favorite philosopher at the time was Friedrich Nietzsche. A list of names were jotted down, "Zarathustra", "Ubermensch", "Will to Power"... "Will to Power" was chosen on the way down to Caribbean Record Pressing in April of 1987. The label was called Thrust Records with a "Thor's Hammer" as the "T". The original intention was to keep all songs on his own label and to release a series of 12" records.
Things changed. Major Record Labels heard about the song and started contacting Bob. Legendary Radio Program Director, Bill Tanner (Power 96 at the time) advised against giving Dreamin' away as enough records could not be pressed to keep up with the demand. Bob was friends with Luther Campbell since 1984 in the Production Room at 99 Jamz. Bob created Multiple Edits on "2 Live Crew" and "Ghetto Style DJs" Records and was named "King of the Edits" by Dave "Mr. Mix" Hobbs. Bob's intentions were to keep it all on "Thrust Records".
New York Attorney Paul Schindler put together a Recording Contract with Epic/Sony Records. The demands of physically pressing and releasing 12" records and performing Live Shows got to be so much so Bob signed a deal with Epic. Dreamin' quickly climbed to the Number 1 spot on the Billboard 12" Sales Chart and stayed in the top 5 for 30 weeks in South Florida.
President of Epic/Sony A&R, Michael Caplan called Bob and said Sony wanted to release a full album. The following year, a follow-up was released entitled Say It's Gonna Rain and again, Will to Power found themselves on the Number 1 spot on Billboard's Hot Dance Music/Club Play chart.
Shortly thereafter, Will to Power - The Album was released. History was made when a medley combining Peter Frampton's Baby, I Love Your Way and Lynyrd Skynard's Freebird was released. The song Baby I Love Your Way/Freebird (Free Baby) infuriated rock purists but delighted the record-buying public. The well-produced ballad, which was a lush track augmented by gloriously rich vocals, rocketed to Number 1 on The Billboard Hot 100 and became one of the year's biggest hits and an enduring 1980s classic.
The hits kept coming with the next single, Fading Away reaching Number 1 on Billboard's Hot Dance Music/Club Play Chart and the release of the follow-up album Journey Home. The soulful ballad entitled I'm Not In Love earned the Number 4 position on Billboard's HOT 100 chart and hit Number 1 on Billboard's AC chart.
Will to Power has returned to the studio in 2005 & 2006 to work with some huge talent on their forthcoming album entitled Spirit Warrior which includes a remake of the C.O.D. classic In The Bottle remixed by Giuseppe D. Spirit Warrior includes collaborations with seasoned musicians Will to Power has worked with before like saxophonist Ed Calle, vocalists Donna Allen, Siddy Betancourt, and Gioia Bruno, as well as some other great South Florida talent like guitarist Dan Warner and Debbie Spring on viola to name a few.
2006 brought us the Spirit Warrior Remix EP with styles ranging from ballads, dance, bluegrass funk, and of course pop. One release from Spirit Warrior went to Number 1 in DJ TIMES magazine within 4 weeks.
Dreamin' was the absolute first record of it's kind. No song before it sounded anything like it. There was nothing remotely like it. Now known as "Electro Bass" and "Breaks" Bob decided to go back to his Roots and the sound he had pioneered in 1987. Now teamed up with Scratch-D of Dynamix II (David Noller) and Recording Partner, B-Minus (Bryan Ives). The new sounds cannot be pigeonholed into a category because it is Electro Bass & Breaks combined with Pop Vocals. Listen for yourself.
Check out our Single to be released on both Vinyl and CD in Early 2009. "Still Fading Away" Mixed by Scratch D of Dynamix II and DJ B-Minus sounds like nothing else out there. WTP NEVER put out what was trendy and "Hot" at the time. We are the ones to start it. We will be releasing 3 consecutive 12" Singles. The Third Single will be released along with a Full Length album/CD in Summer of 2009.
Will to Power will start performing live in 2009 at the time of the album release. Our live concerts will be LIVE. We have two great female vocalists along with Bob also on Turntables and an exciting array of Electro and other Musicians that played live on WTP tracks.
We would like to thank all of our loyal fans and DJs for all of their support.