Conan O'Brien Responds to Letterman Replacement Rumors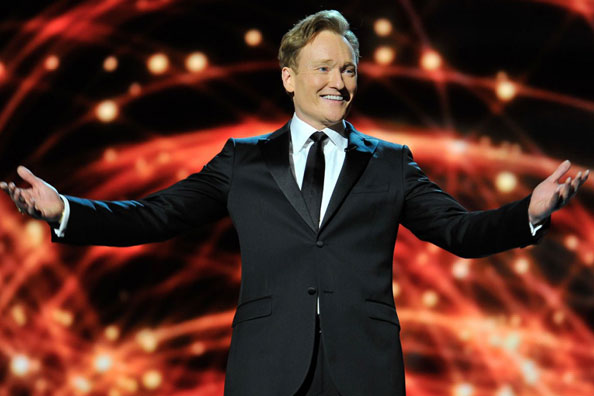 UPDATE: Minutes after we spoke to Conan, CBS announced that Stephen Colbert will be taking over The Late Show.
Conan O'Brien will be hosting the MTV Movie Awards this Sunday, but there's another job people want him to take on: replacing David Letterman when he retires next year.
"I think people are thinking about it the wrong way," the comedian explains. "Right now, we have a glut of people more or less my age or a few years younger than me hosting shows. I think if CBS was smart, they'd counter-program. They would go with really, really old or really, really young. So I'm suggesting either Larry King or Beyonce's baby, Blue Ivy … so I think they're barking up the wrong tree with me or anyone like me."
But in all seriousness, Conan adds, "I don't think there is any replacing Dave, that's for sure … that's an impossibility."
We also surprised Conan with a Throwback Thursday … a piece he wrote about his summer camp cabin in 1974 when he was 11, which we got from Hollywood Records' Scot Finck. "It was something that I was doing, like, comedy, when I was a kid," explains Conan. "And I remembered writing an essay where I talk about our cabin as if I was a talk show host."
In Conan's essay, he revealed that one of his cabin mates liked playing Spin the Bottle, but he didn't. "I'm always the creep on the upper bunk watching other people get it on," jokes Conan. "Nothing has changed."
As for his gig as the host of the MTV Movie Awards, Conan plans to school the young viewers, so to speak.
"I think whenever someone hosts the MTV Movie Awards, it's kind of like the substitute teacher that no one pays attention to," he jokes. "The audience is like 14, so my plan is to come out there and just spray liquid Ritalin into the crowd and try to calm them down. Then I'm going to write my name on the blackboard and teach them about American history."
"It's interesting," he says. "You're trying to get all age groups, so I would add to that. If you had me and Beyonce's baby and Ryan Seacrest, you would then cover all age groups in America. You want older because some people gotta buy laxatives or denture paste … and then you've got diapers and baby powder."
And if Larry, Ryan, and Blue Ivy did become the new hosts of The Late Show, he jokes that it could be called The Early Middle Late Show.
Catch Conan as the host of MTV Movie Awards this Sunday, April 13, at 9/8c! In addition to musical performances by Ellie Goulding, Zedd, and Rihanna and Eminem, Jared Leto and Megan Fox are set to be presenters.